Women in Ag
Women have been a critical part of farm and ranch operations across the country, and around the globe, for centuries.
No matter what role you play in your Ag operation, and we know it could be dozens, World Ag Expo® has opportunities for you to learn a new skill, rediscover an old one, and network with many other women in Ag.

Women in Agriculture for Mentoring and Empowerment
WAME is proud to produce a series of seminars geared for professional women in agriculture. Seminars are free and open to men and women of all ages.
Interested in this seminar series?
Click below to view these seminars for World Ag Expo® 2022!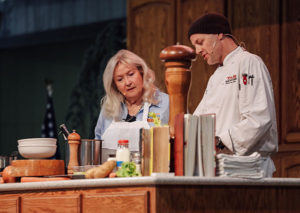 World Ag Women Pavilion
Founded by volunteer Dolly Faria, the World Ag Women Pavilion tradition is carried on by male and female volunteers who value food, crafts, and the art of making a home. Join them to learn a new recipe from a local chef, rediscover the art of canning, or improve your container gardening skills!
Located on South Street between I and J streets.
Interested in this workshop series?
Click below to view these workshops for World Ag Expo® 2022!